How Country Access to Cardiac Health (CATCH)

support people with Heart Diseases in South Australia?
Interview with Gemma Wilson (GW)
Gemma Wilson: Acting Nurse Consultant – Cardiovascular, Integrated Cardiovascular Clinical Network SA, iCCnet SA, Rural Support Service, Regional LHNs, SA Health, Government of South Australia
Q: Can you please tell me more about the CATCH system and how it was originated?
GW: Back in 2007-08, the SA Statewide Cardiology Clinical Network analysed cardiac rehabilitation in SA and identified the gap in cardiac rehab in service delivery. There were patients who are missing out the CR services due to their location. At the time, if a patient left the hospital after a heart attack but were living somewhere not close by to a CR service centre, they were not offered the CR program. In partnership with Country South Medicare Local, Country Health SA developed the CATCH project (Country Access to Cardiac Health). This was later taken over by Country SA PHN when they were established
Q: What kind of services/support does it provide to patients/community?
GW: From 2013, the CATCH project was started to roll out in Country, to date, there are three arms under CATCH
CATCH Database: Central Referrals Database, which captures all cardiac rehab referrals for both country/rural and metro areas in SA. It is a comprehensive database that records all cardiac rehabilitation visits across country SA (telephone and face to face), the referral database will by utilised by all metropolitan public and private cardiac rehab providers. It has become a very powerful tool to provide support to clinicians, patients, nurse and allied health with updated information of cardiac patients and made significant improvements to patient outcomes and benefit to both patients and the health system.
Telephone Program: It was particularly developed for those who are living further than 50km from a Face to Face CR site. This is a 7-week program (once a week) via telehealth. The program is supported by cardiac nurses and allied health professionals, includingservices by a dietician, exercise physiologist, pharmacist and social worker. A 6 months and 12 months follow up review will be conducted to touch-base with patients for feedback and data collection purpose post completion. With the adoption of these innovative tele-health strategies, residents of country South Australia are enjoying greater equity of access to heart health rehabilitation. Continued monitoring of health outcomes in this population also demonstrates the effectiveness of the implementation of these strategies in reducing morbidity and mortality relating to second and subsequent cardiac events. We have also introduced video sessions especially for exercise sessions and received great feedback from the patient.
Cardiac nurses and allied health professional providing telehealth for cardiac patients in SA
The GP Hybrid Program: Introduced in 2017, the GP Hybrid program was developed to further expand cardiac rehabilitation service provision and other collabrative care with the patient's GP. A GP management plan is offered to these patients in conjunction with their GP Hybrid Clinic to support their ongoing cardiac management after they have completed the CR program. Under this program, the GPs will be able to monitor patients' self-management against their goals set out during the CR program and provide them with additional ongoing allied health support. To date, there are over 50 Clinics enrolled in the CATCH/GP hybrid program. It is a patient-centred approach to patient's health management, engaging all stakeholders.
Q: How easy the community can access CATCH?
Every eligible cardiac patient in SA should get referred to CR via different channels, primarily by clinicians in the hospital system.
 Q: How many people/patients in SA are now using this system?
Over 4,000 patients have been referred to CATCH telephone, and over 30,000 people have had interaction with the CATCH referrals database, since it was implemented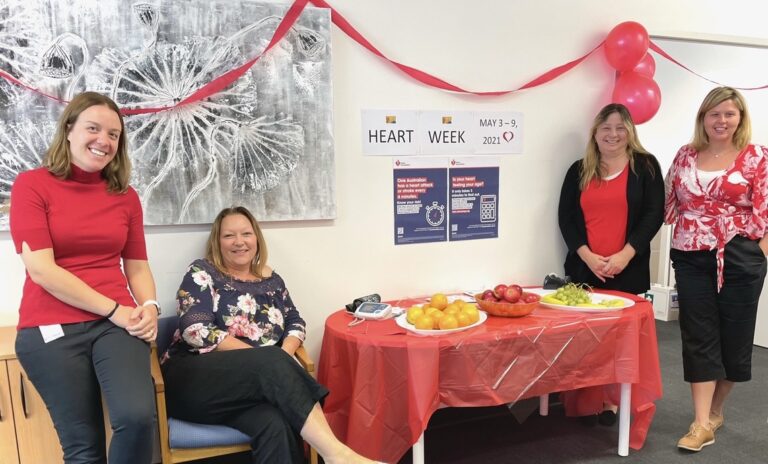 The iCCnet SA team at the National Heart Week in 2021