Keith's journey in research
We interviewed Keith Soady, a SOLVE-CHD consumer advisor, about his journey in research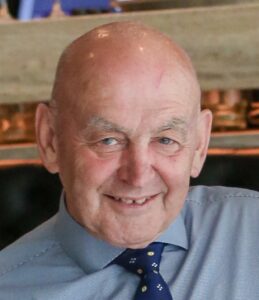 "It's very important to hear different voices and ideas for researchers, as patients provide thoughts from a totally different perspective"
Tell us about yourself
My name is Keith Soady, I am now an octogenarian, I've turned the magic figure! Unfortunately, I lost my wife in the last 18 months. I have got 4 children, 2 living in overseas and two in Sydney, and 6 grandchildren.
Back in 2015, I had two stents put in. I was lucky, it was done fairly quickly and then in 2017, I had another stent. It was picked up during my annual check-up with the cardiologist. Since then, I think I have been managing it myself quite well with medication and exercise. My next routine check-up will be in September this year, he reckons he will take me off the blood thinners I am on.
What is your exercise routine?
At the moment, I mainly manage my cardiac condition myself, because the exercise centre where I used to go to is still closed, maybe due to COVID-19. I walk my dog every day for a good half an hour in the morning and still working in the garden, and keep the house clean. Yes, I think I have trying to be active.
What is your experience with being involved in research?
About 3 years ago, I attended my cardiac rehab at Ryde Hospital as usual, and while I was on treadmill, my nurse Kelly came to me and said 'Would you like to come down to our team meeting? We'd like to hear your thoughts on some of our discussions.' Then, I joined. There were nurses from the different hospitals within the district, and they talked about their concerns. There were also a few more patients like me there. It was run by Prof Robyn Gallagher. I think that was how my involvement in research began, as I started to participate and share my personal views on topics where they need patients' opinion, and I actually quite enjoy it and find a lot of the discussions interesting
After attending a number of meetings, I was introduced to Dion Candelaria. He was at the early stages of his research study at the time, and I was invited to get involved with his project looking at how cardiac rehabilitation affects people's lives. I thought that was an important aspect so from then on, I have been involved in his PhD study. We met regularly and talked about what patients go through after having a heart attack. We also talked about how to best organise his research, patient survey questions reviews, what questions to ask in the interviews, mock interviews, etc. I give him my honest opinion on what I think is best for the patients. I was also going to be reviewing the results but unfortunately, it was the time when my wife got diagnosed with cancer, so I missed out that part. I was still added as a co-author in his publication, he is very generous.
I think I have quite enjoyed so far! I am willing to do what I can to help out, I love sharing my opinion where I can. And it was not too much, it is enough to keep me busy.
What is the value of the patient voice in research?
I think it is very important to hear different voices and ideas, especially for researchers, compare to them, patients provide thoughts from a totally different perspective. I think that is quite helpful to their research.
Would you recommend getting involved in research as a consumer advisor?
Yes, of course I will. I think once I go back to the rehab centre, will be able to talk to more patients and tell them about SOLVE-CHD and more would be happy to join!
I would hope the cardiac rehab centers will reopen again soon so I am looking forward to going back to in-person training soon.